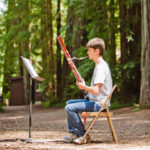 Cazadero Music Camp brings the love of music and learning to youth. We provide a nurturing, inspirational environment for young musicians ages 10-18. For more than 60 years, Cazadero has offered a dynamic music education program that strikes a thoughtful balance between in-depth music education and carefree summer camp fun.
Set on 33 acres near the Russian River in Sonoma County—Caz allows young musicians to learn together under a canopy of spectacular redwood trees. Our vision is to bring this transformative experience to as many youth as possible.
Combining music and nature in a truly unique setting—young musicians develop a love of music which lasts a lifetime. Our impact is evident in the inspired performances that close each session and the heartfelt Testimonials of the young musicians themselves.