How can I register?
You can read about our registration process on the How to Register page and then proceed to the Register Now page which takes you to links for our online registration. You can also print and fill out a paper Registration Form from our forms page on the website, then scan and email it back to us.
How do I decide which session is best for my child?
We want every camper to have the optimum camp experience, to be both challenged and inspired but never overwhelmed. General guidelines about each session are listed on our Schedule & Fees page. Musical level requirements can also be found on the musical aptitude form which was attached to your confirmation email.
Most children are age appropriate for more than one session so take into consideration the level of their musicianship, their general maturity, and their personal preferences. If you have additional questions please call us at 510-527-7500 or email emily@cazadero.org;  we are happy to discuss the various session options with you.
What does it mean if my camper is waitlisted?
Caz is a popular and much loved music camp and our sessions often fill up. We balance our sessions both by gender and by instrument; availability details shift frequently and are listed on our registration page. We have a first-come, first-served registration process and we time stamp every registration. We do our best to keep our website as up to date as possible but numbers can change in the time it takes to register your camper. Therefore, it may appear that your chosen session and instrument is available when in fact it has just filled up.
If you get an email that your camper has been waitlisted for your preferred session first consider these solutions:
Consider switching your camper to a different session.
Consider registering your camper on a secondary instrument.
Email or call the Berkeley office (emily@cazadero.org or 510-527-7500) and we can make these adjustments for you. This can guarantee your camper a spot at camp; then you can decide if you would like to remain on the waitlist for your preferred session and/or instrument. There is no charge to put a camper on our waitlist.
Waitlists are disappointing and hard to plan around; we understand your frustration. We are happy to discuss with you the particular details of your camper's situation.  When/if a spot opens and we can accommodate your camper we will contact you immediately to let you know. We will wait for your confirmation that you are still interested in sending your camper to Caz before moving them off the waitlist.
How do you handle late arrivals, early departures, or needing to leave camp in the middle of a session?
We cannot accommodate late arrivals, early departures, or mid-session breaks for any reason other than an emergency. Our ensemble based program is set up to encourage strong bonds and a sense of community, both musical and social. There is a carefully designed trajectory from arrival at camp, through first day auditions and rehearsals, to final day concerts.
When choosing a session at camp, please make sure your child is able to stay for the entire session (start date through the final concert on the last day). If our session dates do not work for your family, please find a different session or postpone your child's stay at camp until they can attend a complete session.
Please also consider this rule when scheduling other summer events like air travel or additional camps; late arrival could mean that your camper may not be able to attend their enrolled session. Similarly, early departure from camp could result in your camper not being eligible for enrollment the following summer.
Are there scholarships or discounts available?
Scholarships: Cazadero has an active and generous scholarship program. If you have financial need and are interested in applying for assistance please start by registering your camper and indicating your interest in financial aid. We will then send you a personalized link to our online scholarship application. There are also paper forms available, Scholarship Application.
Scholarships are awarded based on a combination of need and merit. We do not have a fixed cut-off for family income; we will consider any completed application. There is more information on our Scholarship Page.
Discounts:
Pay-in-Full Discount: Enroll and pay in full before December 31, 2021 and receive a $40 per week discount. This "discounted" price is the fee that you see if you register before the end of the calendar year. After the discount expires, usually around January 1st, your balance will be adjusted as the Pay-in-Full Discount expires.
Sibling Discount: There is a 10% session discount available for siblings. Enroll a second child from the same household, and receive a 10% tuition discount for the child with the lower tuition value.
Multi-Session Discount: Similar to the sibling discount (see above) there is a 10% discount off additional session registrations when sending one camper to multiple sessions in the same year. Again the discount is applied to the session with lesser value.
Bring-a-Buddy Refund: We consider it a great compliment if a current camper recommends Caz to others because of the positive and meaningful experience they had at Caz. To recognize that effort, we are pleased to offer a Bring-A-Buddy to Camp Refund. It's easy! Recruit a friend to come to Caz (first time for them, repeat time for you) and you will receive a refund of $75 per week for each week the friend attends camp. Simply have the friend write on their registration form that you referred them to Caz and you will receive a refund check after the camp session is over.
What are the cancellation policies at Caz?
If for some reason you find that you must cancel your registration for Cazadero our cancellation policy is as follows:
Cancellation before March 1: We refund all payments less $200.
Cancellation before May 1: We refund all payments less $400.
No refunds of fees are given for cancellations after May 1.
There are a few limited exceptions:
Campers who suffer an illness or injury and whose attending physician certifies in writing that the illness or injury will not allow the camper to safely participate in camp are eligible for a refund less a cancellation fee of $200.
Campers who are forced to leave camp early due to physical injury or illness certified by his or her physician can receive a prorated refund less the $200 cancellation fee. Homesickness or dismissal from camp are not grounds for refund.
Campers who cancel after May 1 may be eligible for a refund of all payments less $400 if we are able to fill their spot in the session.
Scholarship applicants are eligible for a full refund less the $50 application fee if after receiving their aid award offer from Caz they are still unable to afford to come to camp.
Payments for peripherals such as store credit and bus registration will be fully refunded at the time of cancellation.
Camp Life & Accommodations
Where can I find an overview of the camp?
For information about our camp, click on the Music Camp tab on our website. There are individual pages for Camp Life, Curriculum, Concert Schedule, and much more. For a narrative format, take a look at the Camper Handbook. This is available online to read, download, or print.
What are the camper accommodations like?
Campers stay on large deck platforms above the forest floor with a tent or building on one end. Personal belongings are stored in the covered area; instruments are stored in a locked room behind the amphitheater. Camp beds, consisting of a mattress and bed frame, are set up on the deck. Campers sleep in the open under the stars and the giant redwoods. Counselors and CIT's sleep in the tent or dorm room alongside their campers. Showers and toilets are in buildings nearby with changing rooms available for privacy. Boy's and girl's camps are located at opposite ends of the property.
What is the maximum number of campers per session?
Sessions range in size from about 100 to 180 campers. Campers are organized by age and gender into tent units of 10–12 campers with a counselor and CIT assigned to each unit. These units become a family-like unit within the larger Caz community. Units eat together, participate in all camp activities, and often socialize when not rehearsing.
How do you make cabin unit assignments?
Cabin unit assignments are made on the basis of gender preference, age, school grade, and roommate requests. Assignments are made in the Berkeley office about two weeks before camp and are reviewed and approved by the camp deans before the camp session begins. We work to honor as many roommate requests as possible but will not be able to honor every single one. We will always try to honor at least one request per camper, especially if the request is reciprocal with another camper.
New campers need not worry, we are careful to mix new and returning campers to create new friendship opportunities for all our campers.
What items should I pack for camp? Is there a list of prohibited clothing items?
Here is a link to the Camper Packing List.
What not to pack
Cazadero does have dress code guidelines. The following types of clothing are prohibited:
Clothing with holes or that is torn, ripped or ragged.
Clothes that insufficiently conceal undergarments including briefs and bra straps.
Half-shirts, side-less shirts, "see-through" or fish net fabrics.
Bare midriff or open back shirts, spaghetti strap or strapless tops or tube tops. Tops must cover the midriff and must be at least as high as the top of the camper's armpit.
Excessively short skirts or shorts. (Use the "fingertip" test, no shorter than the tips of your fingertips when your arms are resting at your sides.)
Clothing with inappropriate slogans or images.
What are Spirit Days and what should I pack for them?
Spirit Days are camp-wide dress up fun days at camp. Campers can pack specific clothing or just wing it and be creative with their bunk mates when they are up at camp. Here are some examples of Spirit Days from past years:
PJ Breakfast
Crazy Shirt Day
Twin Day
Crazy Hat/Hair Day
Sports Gear Day
College or School Pride Day
Caz Gear Day
Crazy Sock Day
What is the Camp Store and should I send any money with my camper?
There is a small Camp Store at Caz; it carries Caz wear, snacks, toiletries, batteries, and other necessities. It is open for about an hour a day during free time. Campers are limited to no more than two sugary treats a day. Campers receive a camp t-shirt for concert day and have access to water and fruit all day long at various stations set up all over camp.
The store accepts cash but most parents choose to create a store account for their campers. Parents can put money into an account for their camper to use (Store Account Form); the camper then simply tells the store staff what they would like to buy and the price is deducted from their credit account.
A typical amount to put into a Caz store account is $25 per week.
For reference: treats are about $3, sweatshirts are about $35, a beanie hat is about $15. The store is open for parents to shop on concert days.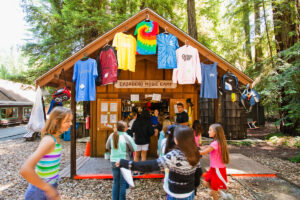 Is there laundry service at Caz?
There are no laundry facilities available at camp. Parents should pack enough laundry to get kids through their whole session.
For those campers staying longer than one week, parents can bring a set of clean clothes to replace the dirty laundry to the mid-session concert.
What is a typical day like at Caz?
A typical day at Caz is full of fun, friends, food, and music. Here is a very bare-bones example of our daily schedule. You should visit our photo gallery to help visualize a day at camp.
SAMPLE DAILY SCHEDULE
7:00                Reveille
7:30                Breakfast
8:30                Instrumental Master Classes or Elective Classes
9:45                Elective Classes
10:45              Large Ensemble Rehearsal*
12:30              Lunch
1:30                Rest and Recreation
3:30                Large Ensemble Rehearsal*
5:00                Free Time or Elective
6:00                Dinner
7:00                Evening Activity
9:30                Taps
10:00              Taps (High School Session)
*Note: In Young Musicians Session we schedule three shorter large ensemble rehearsals each day, rather than the two longer rehearsals listed here.
What is All Camp Choir?
All Camp Choir is a required course for all campers in the Young Musicians and Middle School Sessions. The class is one hour per day, and even our biggest singer skeptics usually report enjoying their experience in our All Camp Choir!
What sort of electives are offered at Caz?
Electives vary from session to session depending on the staff at camp that week. Elective classes are not announced until the general introductory assembly on the first day of camp.
Campers have one hour a day of their chosen elective. Typical offerings include music theory, conducting, jazz improvisation, chamber ensembles, instrumental techniques, percussion improvisation, sports, arts and crafts or nature studies. Elective assignments are based on camper preference, level of ability, and class availability.
What is the likelihood of playing in the jazz band?
Jazz band is an alternate large ensemble in all sessions after Young Musicians and participation is by audition only.  Auditions are held and new participants chosen each week in order to give as many campers as possible the opportunity to participate. Jazz band instrumentation consists of trumpet, trombone, saxophones and rhythm section (bass, guitar, piano, and drums).
We cannot guarantee a spot in jazz band; it's an auditioned process for a limited size ensemble. There is, however, a jazz workshop elective available every week for any and all instruments. As an elective, this group performs at camper ensemble night rather than at the public concert for friends and family.
How do you select your counselors?
Our counselors are music students at the college and university level and come to us from all over the United States. They have a passion for teaching and mentoring youth, and for making sure that all of our campers have an exceptional musical and social experience at camp!
What screening and training do you require of your staff?
Cazadero is committed a safe and healthy camp environment. We follow all applicable health and safety mandates.
Staff Screening
We fully screen all applicants before hire with a thorough background and reference check including a finger print screen. This includes county, state, and national databases. In addition, we implement practices and routines for the supervision of campers and staff to ensure camper safety at all times.
Staff Training Modules
All staff complete required sexual harassment training before arriving at camp. They are not allowed to work until it is completed.
Code of conduct
All camp participants must adhere to a code of conduct that emphasizes kindness, inclusivity, consent, cooperation, mutual respect, and care for one another and the environment. These goals are reinforced with camp programs and activities every day.
This policy is laid out in detail in the Camper Handbook a copy of which was sent to you soon after you registered your camper.
What is the staff to camper ratio?
The ratio of staff to campers is about one staff person for every three campers. This helps guarantee a healthy and happy camp environment. We also work to maintain a highly supportive camp environment, encouraging campers to mentor and help one another as well.
How do I find out about the bus to Caz?
*Cazadero has buses running to camp on the first day of every session. Buses leave from the curb in front of our Berkeley office at the Northbrae Community Church, 941 The Alameda, Berkeley. Arrive by 8:30 AM for check-in and loading.
To reserve a seat on the bus for your camper you should do one of the following:
Use our online form (Camper's Registration ID number required).
Call the office at 510-527-7500.
Email your request to emily@cazadero.org
We need at least one work day to process your reservation, after that we will do our best to accommodate your camper but we cannot guarantee a spot. You are welcome to come to the bus loading to see if we have room.
There are NO return buses from camp; you must arrange to pick up your camper on the last day of the session.
*This information may change if we need to implement COVID safety measures.
What time should I arrive in camp on the first day if I do not take the bus to Caz?
Please arrive at camp on the first day between 10:30 AM and 11:30 AM. Our program begins promptly at 11:30 AM. Here is a link to our directions page.
Camp Address:
5385 Cazadero Highway
Cazadero CA, 95421
How does Cazadero deal with health and safety issues?
At Caz camper health and safety is primary. We have a multi-layered safety structure to take care of both campers and staff.
Prior to camp we collect camper health history information including a fit-to-participate signature from a medical professional, medical insurance information, and emergency contacts.
Campers are screened for medical problems at check-in by the health staff including a quick lice check.
Caz has 2 full-time health officers on staff each week and a well-equipped health facility, complete with dispensary and isolation rooms. This is where all medications and paperwork are securely stored.
In addition to our camp's medical staff, arrangements have been made with nearby physicians and local hospitals for consultation and emergency service.
Any time a camper is referred for medical treatment outside of camp, or is restricted from normal program participation for more than 24-hours, we will contact parents.
Please contact us at emily@cazadero.org if you have any additional questions.
What is the plan in case of fire or other emergency?
Cazadero has multiple strategies in place to protect all campers in the event of an emergency.
Fire or Smoke
Lately, as we have all become aware, fire has become a more regular part of the California experience. Cazadero has a multi-layered fire safety strategy in place.
Firstly, we make sure that our campsite is cleared of undergrowth and often doused in water to keep down dust. We have regular site inspections from the local fire department to ensure that we are doing what we can on site to create defensible space and that the local fire department is familiar with our facility.
We maintain an Emergency Procedures binder, copies of which are distributed throughout the camp. It contains printed versions of all emergency contingency plans including maps. All staff are trained on emergency and evacuation procedures. Our fire emergency plans are also on file with Cal Fire. Campers are told about fire evacuation on the first day of the session and we have a fire drill once a week so that everyone has a chance to practice what to do and where to be in the case of emergency.
If evacuations were deemed necessary, and there is time, we have an on-call arrangement with West County Transportation who will provide buses and drivers. If the evacuation needs to happen more quickly, we have enough private vehicles to safely evacuate everyone from the site.
Smoke can sometimes drift into an area even if the fire is far away. We monitor air quality using Purple Air (there is a sensor nearby at the local Fire Station) and would alter camp programming to limit camper exposure. In the unlikely event of the air becoming Hazardous we are prepared to close the camp.
How does Cazadero deal with discipline?
We hold our staff and campers to a high standard of conduct. We are here to make music and have fun in a safe and secure environment. Campers are briefed on camp rules the first day and copies of our rules are posted throughout the camp. Campers will be reminded of and expected to abide by these rules while at camp.
Cazadero staff are carefully trained to work with youth and maintain a positive, healthy and supportive environment at all times. We strive to create an environment free from all forms of harassment, discrimination, or retaliation.* It is assumed that campers are amenable to normal camp rules and will conform to the regulations of our camp program.
Reasons for sending a camper home:
Cazadero has a zero tolerance policy regarding violence, alcohol, illegal drugs, theft, weapons or vandalism. Campers found in violation of this policy will be sent home immediately with no refund of fees.
Other possible behavior issues are dealt with as follows:
The camper's counselor talks with the camper one-on-one to discuss the problematic behavior.
If the behavior continues, the counselor will bring the issue up with their Dean or other supervisors who may contact the camper's parents to let them know of the ongoing issue.
If the behavior still persists, a camp director will then contact the parents again to make arrangements for the camper to go home.
*You can find the full texts of our camper rules of conduct; Caz's policy against harassment and discrimination; and complaint and resolution procedures in our Camper Handbook.
What if my child becomes homesick?
Missing home is normal, especially for younger campers. In our experience it's best not to prolong your departure from camp or suggest that your child might be homesick. We find homesickness typically subsides in 24 to 48 hours. Every counselor at Cazadero is trained to provide comfort and support, and encourage the formation of new friendships at camp. It's helpful to have family members send funny stories from home, as well as writing encouraging letters.
Mail your letters early, don't risk having your letter arrive after a child has left camp.
In our 50 years of creating a successful camp experience, we offer these suggestions for you to keep in mind:
Letters: If you get a sad letter that causes you concern, contact the camp. Our counselors are trained to handle most situations—talking with your child to help them feel reassured, and/or to resolve almost any issue that may arise.
Incoming calls: We understand if you are worried about your camper. Unfortunately, we have found that homesickness is aggravated rather than relieved by phone conversations. We are happy to have one of the Deans call to let you know how your camper is doing.
Outgoing calls: Children are not allowed to call home. However, if our counselors or staff feel a situation has become unmanageable, we will definitely contact you!
Above all, rest assured that parents' concerns are important to us! See below for how to contact the camp.
Tips for first-time parents around "kidsickness".
Dear first-time parent,
We feel your pain! In terms of separation from your camper you have a hard job. While they are at camp with a full time staff supporting them through this transition moment you are at home with only normal things around you which can serve to remind you of who is missing.
Pre-Camp Excitement
Share the excitement with your camper. Remind yourself why you chose to send them to camp and how this is an amazing experience full of challenges and accomplishments in equal measure; there's nothing like it. Have fun packing with them, going over the handbook, talking through likely challenges and ways to overcome them.
Important note: never tell your camper that you could come get them if it proves "too hard". Campers will make it through and be so proud of themselves when they do!
First Day Crunch Time
So the first day has come; you have put your camper on the bus or waved good bye to them at camp as they are whisked off by their new counselor and friends. Now you have to wait.
Remember, no news is good news! As an organization we are all working to keep your camper safe and happy. So assume that everything is fine and that camp will call you if there is anything wrong.
Deans will start posting photos of camp activities on our Facebook page as soon as they have a moment. It will usually be about 24-36 hours. Try to remember that camp is very busy, especially in the first 24 hours. This is by design! A busy camper is much less likely to feel sad.
The Week Ahead
Camp staff is busy taking care of your camper and that is a full time job. You don't have a support staff so we hope you will make some plans to take care of yourself. Try to enjoy this time with fewer parental duties in whatever way works best for you.
How can I contact the camp?
Our camp mailing address for letters:
Cazadero Music Camp, Camper Name and Session
P.O. Box 140
Cazadero, CA 95421
Camp mailing address for packages:
Cazadero Music Camp, Camper Name and Session
5000 Austin Creek Road, Box 140
Cazadero, CA 95421
The Cazadero camp office phone number is 707-632-5159. The office at the camp site is open normal business hours during summer sessions. After hours, the phone rolls to the director's cabin for emergency contact.
To reach our Administrative office in Berkeley, contact Emily Brockman, our Registrar, at Emily@Cazadero.org or 510-527-7500, Ext. 10. The Berkeley office is open M-F, 9-5. Outside of those hours, please contact the on-site camp office.
Can my camper use the telephone?
We do not encourage phone communications at camp; there is a lot of evidence that it engenders homesickness and sabotages new feelings of competence and independence. There is no cell phone service at Caz and we do not allow campers to use the office phone to call home, nor allow calls from home to the camper.
Parents are welcome to call the camp office and ask about how their camper is doing; if they have specific concerns, we will have one of the counselors or deans call them back for a more detailed conversation. If parents have a special circumstance please call the camp office at 707-632-5159 and your message will be written down and delivered to your camper. Of course exceptions can be made for emergencies.
After normal business hours the phone will roll over to the Director's cabin.
How does mail get to my son or daughter?
Mail is picked up from the Cazadero post office at least once a day. It is sorted at camp and distributed to campers at meal times. USPS uses the post office box and won't deliver to camp while FedEx and UPS will only deliver to the camp address if they deliver at all. Because online retailers do not allow you to specify which carrier you prefer please do not send us online orders for your camper.
Camp Addresses
If using USPS, send letters and small packages to:
Camper's Name and Session
Cazadero Music Camp
P.O. Box 140
Cazadero, CA 95421
For packages via FedEx or UPS send to:
Camper's Name and Session
Cazadero Music Camp
5000 Austin Creek Road, #140
Cazadero, CA 95421
Please note: Allow four days for letters sent via US mail to travel in either direction. While mail is delivered and distributed daily at camp, Express Mail arrives later in the day so please plan accordingly.
Visits and Site Accessibility
What about visitors?
Caz does not allow "drop in" visits. Such visits can create a number of problems including disrupting programs, diverting staff or setting off bouts of homesickness in susceptible campers. Concert day is when parents are strongly encouraged to come to camp and see what all the fuss is about!
Concert Day at Caz
Concerts take place at the end of each week at Caz, sometimes on a Saturday, sometimes a Sunday. You can find the schedule here.
Concerts begin at:
10:30 AM with piano and guitar (if applicable).
11:30 AM – All Camp Choir (Young Musicians and Middle Sessions only) will perform.
1:00 PM – Large Ensembles being with the Jazz Ensemble, then the Orchestra and the Concert Band will perform.
There is a lunch break after the All Camp Choir. Campers will eat with their units, parents are welcome to picnic on the grounds.
Here is a link to directions to camp, and here is the camp address if you prefer to use a GPS app:
Cazadero Music Camp
5385 Cazadero Highway
Cazadero, CA 95421
Is there ADA compliant accessibility at the Cazadero camp site?
Cazadero is fully accessible with ADA compliant parking, walkways, and bathrooms. When you arrive, please ask staff to direct you to the handicap parking on the blacktop. There are paved paths to the amphitheater and wheel chair accessible bathrooms.
Contact the office at 510-527-7500 ex 10 (during the week) or 707-632- 5159 (on concert day) if you have any questions.