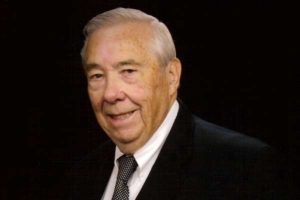 Bob Lutt was born in 1929 in small-town Nebraska. He attended the local public schools, graduating from high school in 1946 at the age of 15. His love of music started at home.
"I was very lucky to have a mother who was a magnificent singer. In the little town I grew up in there was a very good school band and she put a lot of effort into getting me involved with it. My first instrument was the trombone — I started when I was twelve."
He entered Wayne State College in the fall of 1946, the first person in his extended family to attend college. His first love while in high school was football, but he also performed as a drum major with the marching band at halftime of his games. Although he intended to be a sports major at college a serious injury forced him to change his plans and he became a music major instead. He graduated with a degree in music and a teaching certificate in 1950.